16 september 2015 • Invitation exhibitions: 'Growing Matter' and 'Egied Simons: Radix Morgana'
You are kindly invited to attend the opening of the exhibitions "Growing Matter" and "Egied Simons: Radix Morgana" In Amsterdam, organizes by Zone2Source.
Sunday 27 September, 2 – 5 PM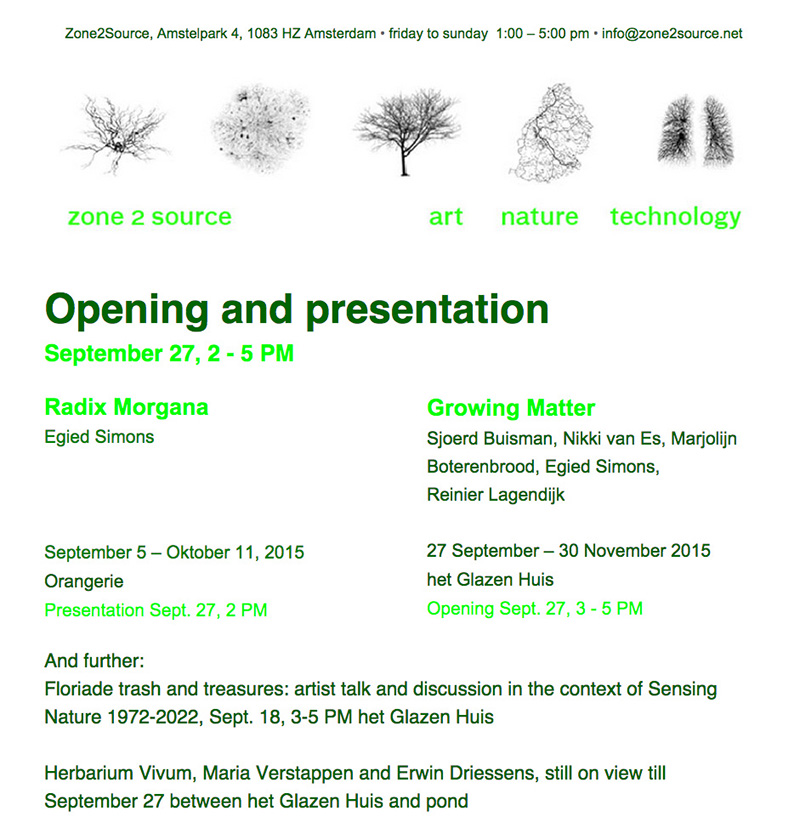 Location: Amstelpark 4, 1083 HZ Amsterdam

Growing Matter is an exhibition with work by artists who are inspired by and use materials in a state of growth to explore processes and relations found in nature. With Sjoerd Buisman, Nikki van Es, Egied Simons, Marjolijn Boterenbrood and Reinier Lagendijk.
Growing Matter
Het Glazen Huis, September 27 till November 30, 2015
Opening Sunday September 27, 3 PM
At 2 PM we start with a presentation of Radix Morgana by Egied Simons who will be working in the Orangerie from September 7 to Oktober 11.
Growing Matter
Glazen Huis | Sept 27 - Nov 29
Growing Matter shows work by artists who use materials in a state of growth to explore processes and relations found in nature. In installations, drawings and video they explore the interweaving of nature and culture from distinct perspectives. The works in Growing Matter are placed in a dynamic relation towards eachother and the world outside the glass pavillion.
Artists: Sjoerd Buisman, Nikki van Es, Marjolijn Boterenbrood, Egied Simons, Reinier Lagendijk
Egied Simons
Orangerie | Sept 12 - Okt 11
Egied Simons has been invited for a work period in the Orangerie as a first exploration of a research in 2016 in which the gardens, soils, trees and plants of the Amstelpark itself becomes the focus. He will show two installations: "Radix Morgana" and "Green Waves" and Rootprints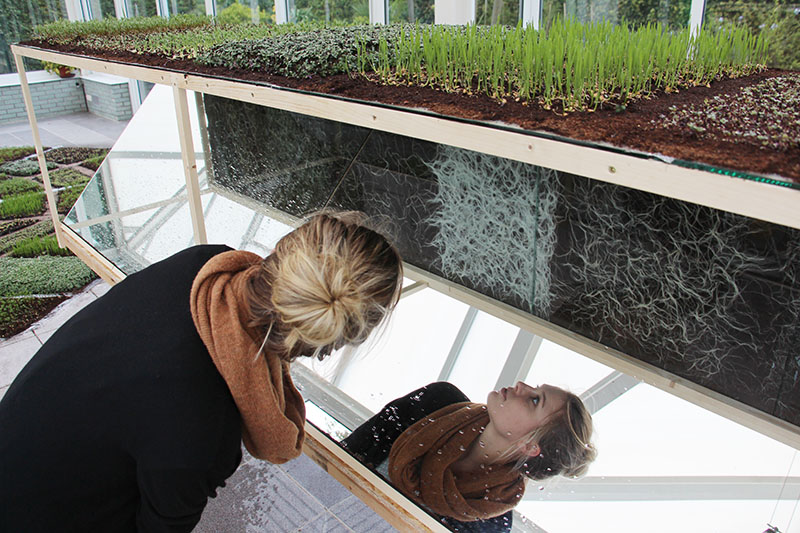 ​
RADIX MORGANA (Orangerie)
Simons' interest in biological materials has extended to a study of root systems. Within the outlines of a map of Amsterdam the floor will be covered with a thin layer of prepared earth which is sown with seeds from around the world. After several weeks the surface is overturned and the root structure becomes visible. How do roots of plants grasp and mingle with each other? Which strategy does the plant use in its search for a stronger grip as well as water? The underground texture reveals the traces of this search. In the center of the space a 5 meter wide installation is presented: Radix Morgana. On glass plates grow several crops. The root growth can be followed through the use of mirrors at an angle of 45 degrees.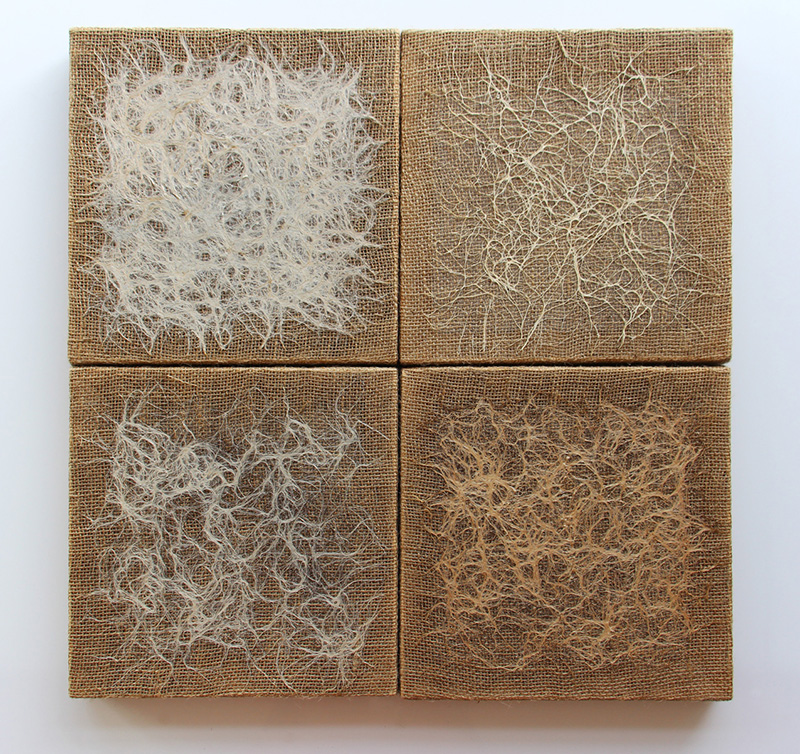 ROOT PRINTS (the Glass House)
Egied Simons will display Root Prints, a series of works produced during his work period in the Orangerie. The roots of seeds grow into a specially prepared cloth and form a texture with their own colour and pattern as a signature.
GREEN WAVES (the Glass House)
In the backroom of the Glass House he presents Green Waves. Images from a camera focusing on the tree crowns outside will be projected inside the space. The lens is out of focus, details are erased, only the movement and play of colour and light remains.
Zone2Source Excursions
On October 4th, 3 -5 pm Arend Wakker, ecologist, will offer an excursion The Roots of the Amstelpark inspired by the exhibition Radix Morgana. Starting point Orangerie
Egied Simons
Orangerie | 12 sept - 11 okt
Egied Simons is uitgenodigd voor een werkperiode in de Orangerie kas. Simons's interest in plant life has also extended to a study of root systems with the work Aan weerszijden van de Orangerie wordt de geabstraheerde plattegrond van Amsterdam uitgezet en de vlakken gevuld met een dunne laag geprepareerde aarde die worden ingezaaid met zaden uit de hele wereld. De bovengrondse groei zal de ruimte tot een groene oase maken. Na enkele weken worden de vlakken omgekeerd en komt de wortelstructuur naar boven. Hoe grijpen de wortels van verschillende planten in elkaar? Welke strategie gebruikt de plant op zoek naar grip en vocht. Het ondergrondsweefsel toont uiteindelijk de neerslag van dit zoeken. In het centrum van de ruimte komt een ruim 5 meter brede installatie te staan: Radix Morgana. Op glazenplaten groeien verschillende gewassen, De wortelgroei hiervan is life te volgen via spiegels onder een hek van 45 graden.
Het werk in de Orangerie is een eerste verkenning van een werkperiode in 2016 waarbij (de ondergrond van) het Amstelpark zelf als uitgangspunt dient. De vele tuinen, grondsoorten en bomen en planten bieden hiervoor ongekende mogelijkheden. Dit jaar wordt al een begin gemaakt met verzamelen van zaden.
Growing Matter
Het Glazen Huis, 27 September t/m 30 November 2015
Met werk van Sjoerd Buisman, Nikki van Es, Marjolijn Boterenbrood, Reinier Lagendijk, Egied Simons
Opening Zondag 27 September, 15 uur
Growing Matter is een tentoonstelling met werk van kunstenaars die groeiend materiaal in hun werk gebruiken om processen en relaties die in de natuur gevonden worden te onderzoeken .De kunstenaars die hier getoond worden onderzoeken de verwevenheid van cultuur en natuur vanuit verschillende perspectieven. Het werken met materiaal en ideeen van groei brengt ze in een dynamische dialoog met elkaar alswel met de omgeving buiten het glazen paviljoen.
Egied Simons maakt gebruik van natuurlijke fenomenen als de wind en kleine organismen als basis voor zijn sculpturen, installaties en publieke interventies. Hij past wetenschappelijke principes en materialen toe als lenzen, spiegels, camera's en projectoren om biologisch materiaal te presenteren als spinnewebben, vlinder vleugels, vis schubben, bloed, insecten eitjes en levende organismen op interactieve manieren. Door letterlijk in te zoomen op de materie die ons omgeeft wordt het observeren van realiteit een cinematische ervaring. In de achterrruimte van het Glazen Huis presenteert Egied Simons Green Waves. Beelden van een camera die gericht is op boomkruinen wordt geprojecteerd in de ruimte, de lens is out of focus, details zijn uitgefilterd, alleen beweging, het spel van kleur en ruisend licht blijft. Egied Simons presenteert ook Root Prints, een serie werken geproduceerd tijdens zijn werkperiode in de Orangerie. Wortels van zaden grijpen in speciaal geprepareerd doek en vormen een weefsel, de weerslag van hun zoektocht. De wortels van iedere plant hebben een eigen kleur, en patroon, een eigen signatuur.