07 juni 2003 • QI Art Island
On 7 June 2003 there was a festive opening of the QI Art Island. Egied is one of the 43 participating artists, and has created an artificial cloud (see www.qi-kunsteiland.com).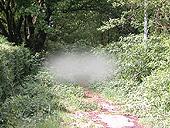 The year 2003 marks the Year of Water. To affirm the incontrovertible link the city has with water, a programme of events is being organised entitled Waterlife Rotterdam (see www.waterlife-rotterdam.nl). Tucked in the middle of the Port of Rotterdam, at Heijplaat, lies the peninsula of the former Quarantine Headquarters. Although businesses have gradually sprung up around it, part of the QI grounds have remained intact as cultural and historical heritage. Spread over 3 hectares of land and dotted among the foliage are seven buildings where artists, musicians and designers live and work. Over the past 23 years the QI grounds have acted as a production site for the Fine Arts, film, dance, music, architecture and inter-related combinations. The productions find their way to the outside world at national and international level. The Art Island exhibits works of art on the QI grounds. Artists and designers from a broad range of disciplines work jointly or individually on a commission based on the theme 'Waterlife'. The works of art are specially constructed within the landscape and architectonic context of the spectacular peninsula. The peninsula, in the heart of the port and on the riverbank, is a beautiful setting to illustrate waterlife. It represents a microcosm in its links with city, nature, port and culture. At the moment, the QI site is the only place in Rotterdam serving as a testing ground and experimental haven for various forms of outdoor art.