02 juni 2017 • Invitation opening: Disruption – Remapping Nature
Lustwarande cordially inviteds you to attend the opening of
"Disruption – Remapping Nature"
on Saterday June 24 at 3 PM
location: Park De Oude Warande Tilburg NL
Opening: The opening will be performed by Marcelle Hendrickx, Alderwoman of Culture Tilburg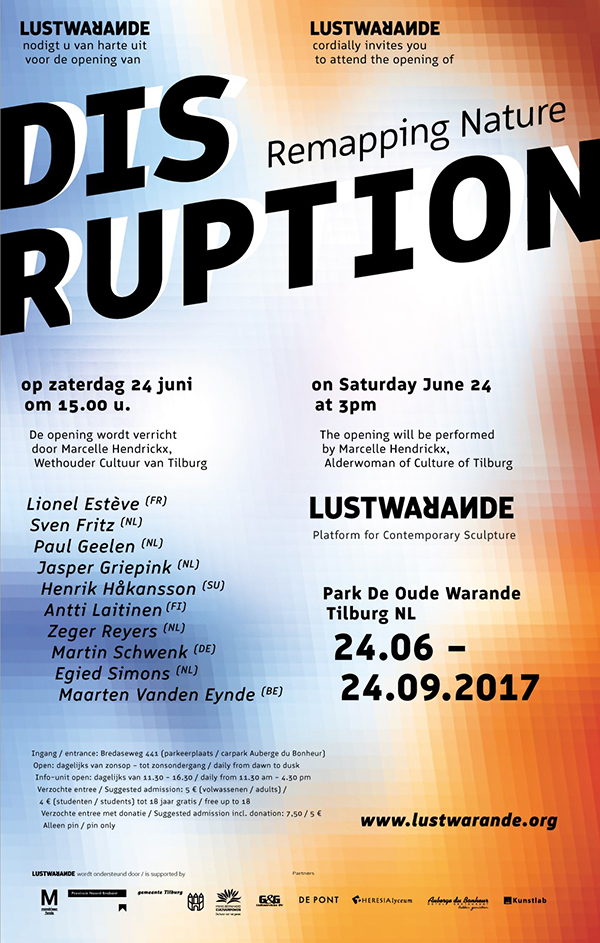 The renewed interest in art and nature the last few years has been remarkable, but does not come as a surprise. It concerns a holding position, a reconsideration of our ethical values, based on the realization that our earth's resources are not inexhaustible.
Disruption – Remapping Nature will focus on a number of European artists, who each shed their light on how people today perceive, define and relate to nature. The main challenge of Disruption will lie in presenting these reflections on art and nature in the context of De Oude Warande. Where does the concept of nature end and begins the notion of culture?
Participating artists:
Lionel Estève (FR)
Sven Fritz (NL)
Paul Geelen (NL)
Jasper Griepink (NL)
Henrik Håkansson (SU)
Antti Laitinen (FI)
Zeger Reyers (NL)
Martin Schwenk (DE)
Egied Simons (NL) Click here for a link to my work: Coils
Maarten Vanden Eynde (BE)
Entrance: Bredaseweg 441, Tilburg (carpark Auberge du Bonheur)
Open: daily from dawn to dusk
Info-unit open: daily from 11.30 am - 4.30 pm
www.lustwarande.org