27 juli 2003 • 3e Open Atelierroute Charlois (3rd Studio Presentation Charlois)
During the weekend of 27-28 September 2003 you can visit Egied's studio from 11.00 till 17.00 hours. This can easily be combined with a visit to the QI-Art Island where his work 'Misty Volume' is shown.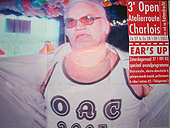 3e Open Atelierroute Charlois Tijdens de Open Atelierroute Charlois kunt u een blik werpen op het werk en de werksituatie van zo'n 200 beeldend kunstenaars. Voor de organisatie van deze atelierroute is een samenwerkingsverband ontstaan tussen kunstenaarsinitiatief Stichting B.a.d, Klein 14, kunstenaarsvereniging Mix en de ateliers op het Quarantaineterrein.