28 februari 2003 • New studio!
As of 15 March 2003 Egied found a perfect studio and exhibition space at Soerweg 13, Rotterdam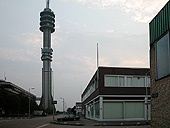 After having stayed for almost a year at gueststudios in Rotterdam (Kaus Australis and B.A.D Foundation) Egied has found a perfect studio at the Waal Harbour in Rotterdam, opposite a giant radio/tv tower. A former canteen of the ROTEB (Rotterdam refuse collection) with a black marble floor over 200 m2 will function as a workingspace and as an exhibition space. In this remote industrial area illegal streetraces take place.